drawille-cr
Based on the the drawille library for Python, this library allows the developer to draw using Unicode braille symbols in the terminal.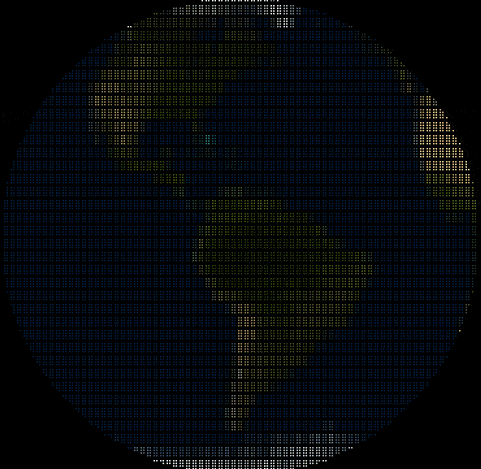 Notes
The library extends drawille to support RGB colors in the terminal. It doesn't attempt to degrade gracefully to terminals that don't support RGB. This library is very much a work in progress. If there's functionality in it that you wish to see, please feel free to fork or submit a pull request.
Usage
require "drawille-cr"

c = Drawille::Canvas.new

(0..180).each do |x|
  c.set(x, (10 + Math.sin(x * 2 / Math::PI * 10) * 10).to_i32)
end

print c.render

See examples for more info on how to use, or read the implementation.
Installation
Add this to your shard.yml file:
dependencies:
  drawille-cr:
    github: joeyrobert/drawille-cr
    branch: master
License
AGPLv3
drawille-cr is free software: you can redistribute it and/or modify
it under the terms of the GNU Affero General Public License as published by
the Free Software Foundation, either version 3 of the License, or
(at your option) any later version.

drawille-cr is distributed in the hope that it will be useful,
but WITHOUT ANY WARRANTY; without even the implied warranty of
MERCHANTABILITY or FITNESS FOR A PARTICULAR PURPOSE.  See the
GNU Affero General Public License for more details.

You should have received a copy of the GNU Affero General Public License
along with drawille-cr. If not, see < http://www.gnu.org/licenses/ >.

(C) 2014- by Adam Tauber, <asciimoo@gmail.com>
(C) 2020- by Joey Robert, <joey@joeyrobert.org>